Social media is a great opportunity to engage your audience and turn your marketing into a conversation. It provides a perfect opportunity to get your audience to talk about and engage with your brand. We have listed 7 Social Media Tips & Tricks for Halloween to allow people to go crazy for your brand.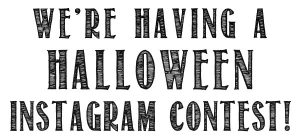 According to the National Retail Federation, a record 170 million Americans say they'll celebrate the holiday this year.
That means there's a huge opportunity for your business to join the celebration with some clever Halloween social media marketing. Last year, we saw clever Facebook apps, promotions, contests and hashtagging.
This year – get into the game. Here are the Lucky 7 ways to incorporate Halloween into your social media marketing. If you are looking to discuss your holiday promotions, click here to begin a dialog with Team Horsepower Marketing about how your firm can employ the Lucky 7 Social Media Tips & Tricks for Halloween.
1. Run A Halloween Photo Contest
People dig sharing their costumes, so ask your enthusiasts to snap a photo or shoot a video of themselves using your product while in costume. To really boost participation, turn it into a hashtag photo/video sharing contest.
For millions of Americans, Halloween means exactly one thing: dressing up. Costume parties and trick or treating is not just popular among families with small children, but adults of all ages – in fact, an estimated 68 million Americans dressed up for the day last year. So why not tap into that excitement?
Encourage your followers to submit their costumed photos for a brand-related prize. You can even allow the same followers to vote for the winner, which will maximize engagement by prompting additional social shares.
2. Join In Popular Hashtags
As October 31 approaches, more and more users will begin to share their thoughts on the day, spooky movies, or costume parties under popular. Your goal should be to join these hashtags with tweets, posts, and updates related to the countless conversations.
Popular Hashtags include:
#Halloween #Trickortreat #HappyHalloween #HappyHalloween #Party #Halloweenparty #Halloweenmakeup #Halloweencostume #Candy #Scary #Hauntedhouse #Holidays #Celebrate #Skeleton #Jackolantern #Bonfire #Cold #October #Devil #Skull #Pumpkin #Zombie #Fancydress #Creepy #socialdraft
PARTICIPATION NOTE: Only seek out hashtags and post content that actually make sense for your brand.
3. Update Your Social Profile Images
Most of us upload our social media profile pictures once and never think of them again, but they're actually fantastic marketing collateral year 'round. Not only do you have the headshot-sized images to play with but also the wider banner images on Facebook and Twitter provide ample Halloween-themed opportunities
Here are a few Halloween business ideas to keep your images holiday-centric:
Place a cobweb graphic on top of your company logo
Create a Zombie of a headshot
Upload an image of your Halloween-themed products for the banner image
Use Halloween-centric stock photos
4. Engage Facebook fans with Spooky Images
Images are a proven tactic for attracting attention on your Facebook page. Images pop on your news feed and engage visitors, often earning more likes and comments than other posts.
Spooky Image Note: What makes scary movies so spooky? In addition to the music, it's the camera angles and lighting. The flashlight-from-below example of that statement is iconic, and instantly gets viewers in the right mood.
To be successful on social media, visuals matter. During the weeks before Halloween, begin to experiment with angles on these visuals that closely relate to popular spooky movies. Handheld, shaky videos, low lighting, and off angles can all have a spooky effect that position your images and videos for the season.
5. Hold a costume contest
What better way to get people in the Halloween spirit than holding a spooky-themed contest? A costume contest is a fun way to engage your fans and enthusiasts. It helps to litter your timeline or Facebook page with multimedia, too, which can attract more attention to your business. (multiple posts).
Here are some Halloween business ideas for your contest:
Submit a photo using your product in a Halloween setting on Instagram with a special hashtag for entry
Share your Halloween image or link from Facebook on their profile
Answer a question on Twitter like, "What's your favorite Halloween candy?"
Submit a photo in a Halloween costume on Instagram
Timing Note: Give away an in-demand product that people will clamor to win. Keep the entry dates short enough to spur people into action but long enough to give them time to prepare their entries, especially if more work is involved, such as creating a video.
6. Pimp Your Newsletter Sign-Ups
Halloween is about getting free stuff. Unfortunately, though, getting free stuff for Halloween tends to diminish when you get older.
Bring back the good memories and offer a Halloween freebie to anyone who signs up for your newsletter. Items that can be delivered at little or no cost with universal appeal include:
Printable stencils
Recipe ideas
Pumpkin-carving templates
7. Share Your Halloween-Related Marketing Campaign
Your Halloween efforts may go beyond social media. If you've set up a marketing campaign that includes promotions on specific products, and you're amplifying it on other channels like email, advertising, and your blog, social media is a great addition to your efforts.
In fact, a cohesive Halloween marketing campaign spread across multiple channels will attract more customers than just one or two channels will.
Here are some ways to share yours on social media:
Link to landing page for the specific promotion
Ask your network to share these links
Promote a blog post that talks about the Halloween campaign
Incorporating a few Halloween promotions will keep your brand relevant and at the top of shoppers' minds this fall.