A client called for assistance in creating a presentation deck to sell sponsorships for an old school custom bike show produced by Traditional Chopper Magazine. Canva was selected to design the presentation because it is simple and has all the elements to quickly build a sponsorship presentation deck.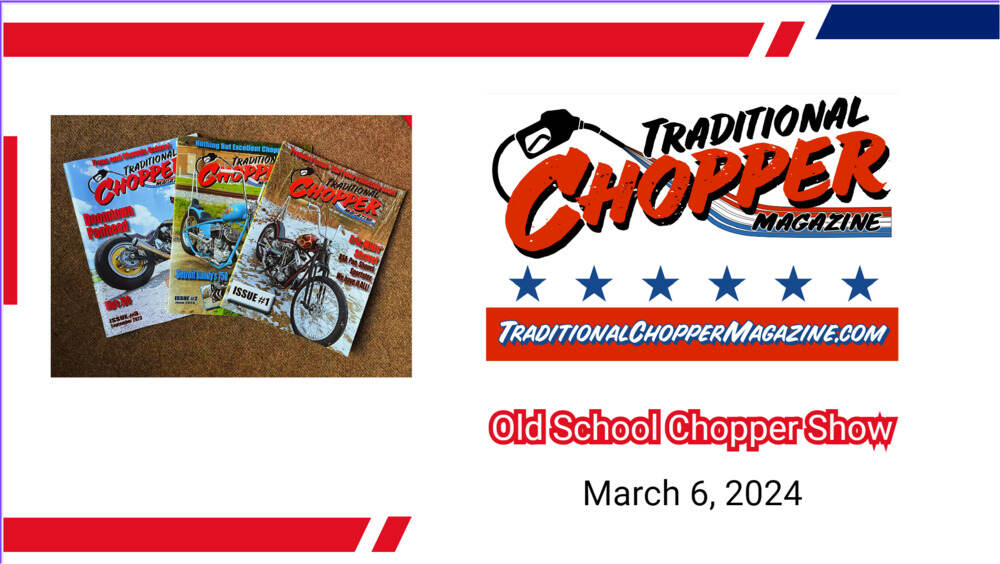 5 Steps to Build & Deliver Your Presentation
Structure of the Presentation:

Introduction: Start with a compelling cover slide showcasing the event.
About the Event: Highlight the history, uniqueness, and success of the custom bike show.
Sponsorship Opportunities: Present various sponsorship tiers with benefits.
Audience & Reach: Share demographics and expected audience numbers.
Why Sponsor? Explain the value sponsors would gain by being involved.
Contact Information: Provide clear contact details for further inquiries.
Design Elements:

Visuals: Use high-quality images of past events, custom bikes, and engaged audiences.
Consistent Theme: Maintain a consistent color scheme and design elements throughout.
Legible Text: Ensure text is easy to read, even from a distance.
Branding: Incorporate logos or branding of the bike show and potential sponsors.
Content Creation:

Concise Information: Keep text brief and impactful. Use bullet points and key phrases.
Engaging Headlines: Craft compelling titles for each slide to grab attention.
Benefits & Value: Highlight the benefits sponsors will receive and how it aligns with their goals.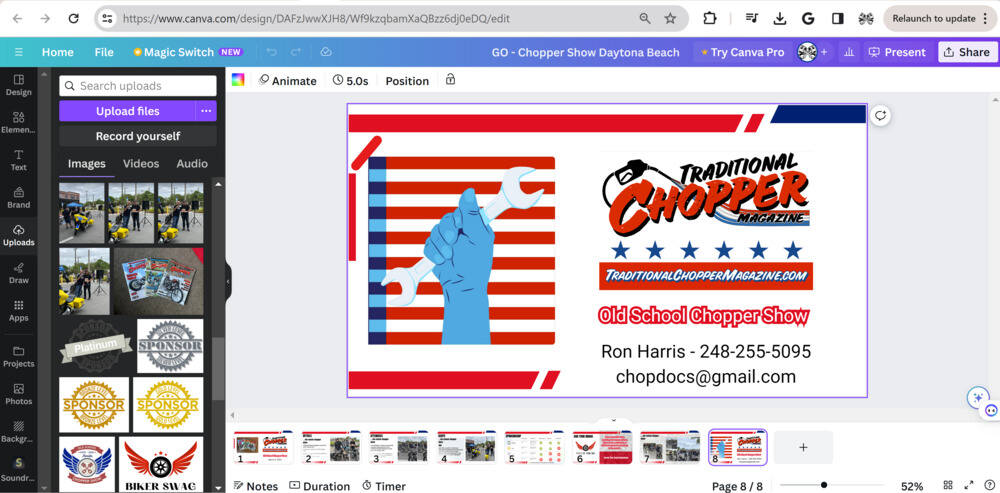 Canva Tools:

Templates: Canva offers pre-designed templates for presentations; select one that aligns with your style.
Elements: Use shapes, icons, and illustrations to enhance slides.
Text & Fonts: Experiment with various font styles to make the text visually appealing.
Delivery:

Practice & Rehearse: Be prepared to present confidently, knowing the content well.
Engagement: Engage the audience by making the presentation interactive, if possible.
Customization: Tailor the presentation to suit the potential sponsor's interests.
Follow-Up:

Provide Copies: Offer digital or print copies of the presentation after the meeting.
Follow-Up Email: Send a follow-up email summarizing the discussed points and expressing gratitude for their time.

Going Deeper: Canva is a versatile tool for creating presentations. Here are 10 reasons to consider it when creating presentations:
User-Friendly Interface: Canva offers an intuitive, user-friendly interface, making it easy for beginners and professionals alike to create stunning presentations.
Abundant Templates: It provides a vast library of presentation templates designed by professionals, saving time and effort in design.
Customization: Users can easily customize templates with their branding, colors, and unique style to create a personalized look.
Drag-and-Drop Functionality: The drag-and-drop feature simplifies the process of adding elements, images, and text, allowing for quick and effortless design.
Rich Media Library: Access to a wide range of stock images, illustrations, icons, and fonts enables users to enhance their presentations with quality visuals.
Collaboration Features: Canva allows for easy collaboration among team members, making it seamless to work on presentations together, share feedback, and edit in real-time.
Mobile App Compatibility: The availability of a mobile app allows users to work on presentations from anywhere, anytime, adding convenience to the design process.
Cost-Effective: While Canva offers a free version, its premium features are available at a reasonable cost, making it accessible for various budgets.
Export Options: It provides multiple export options, allowing users to save presentations in various formats suitable for different platforms or devices.
Constant Updates and Support: Canva regularly updates its features and provides customer support, ensuring users have access to the latest tools and assistance when needed.
Whether it's about creating engaging content, refining your message, or enhancing the visual appeal, connect with Horsepower Marketing for valuable expertise for your next presentation.