Earlier is better, Later is not so good – Triggered Emails Re-engage Customers
Timing is key to reengaging shoppers who have abandoned shopping carts online. That's the takeaway from new data which indicates that triggered emails sent earlier in the abandonment process show higher engagement and conversion rates than those sent later in the process.
How big is the problem? On average 67.45% of online shopping carts are abandoned before the customer completes a sale. That implies that your sales numbers may only be one third of what they could potentially be.
Those shoppers who browse by filling shopping carts online and then abandoning can be turned into converted buyers. That's the takeaway from new Barilliance data which found that triggered emails may be the key to re-engaging these lost shoppers.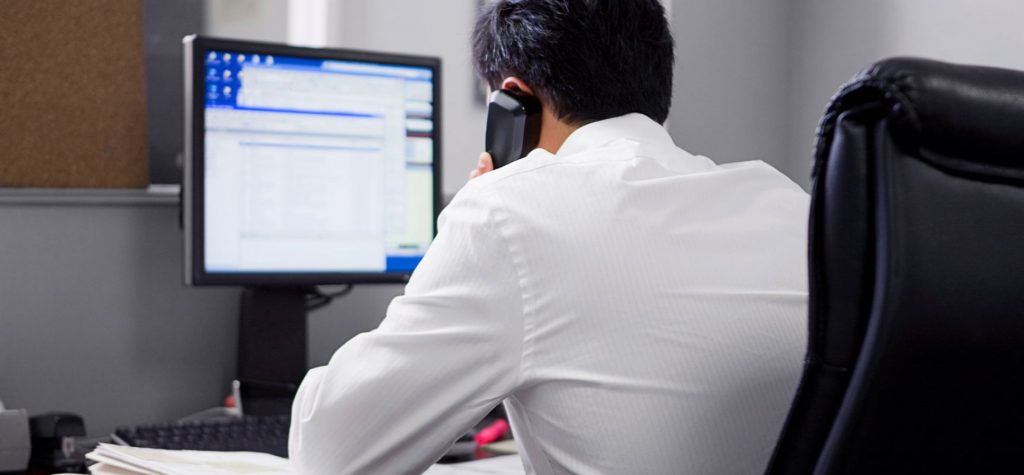 What are abandoned cart emails
Abandoned cart emails are sent to customers who have added products to their cart but failed to check out.
The Big Takeaway is 33% Converstion Rate – It's remarkably effective as a sales recovery tactic. According to SaleCycle, nearly half of all abandoned cart emails are opened and over a third of clicks lead to purchases back on site. Which means that triggered emails re-engage customers.
Findings from the report include:
20% conversion rates for those sending a first triggered email an hour after the cart is abandoned
17% conversion rate for those sending a second triggered email 1 day post-abandon
18% conversion rate for those sending a third triggered email 72 hours post-abandon
Comparatively, if the first triggered email is sent 1 day post-abandon, conversion rates drop to only 12%; conversion rates continue to drop if the second and third triggered emails are sent later, too.
Sample Abandoned Cart Emails
It's a simple yet shockingly underused tactic by even some of the largest retailers on the web. Stores that fail to generate abandoned cart emails include Macy's, Apple, Nordstrom, and the Gap. These are big retailers that are leaving money on the table. Tiggered Emails Re-engage Customers.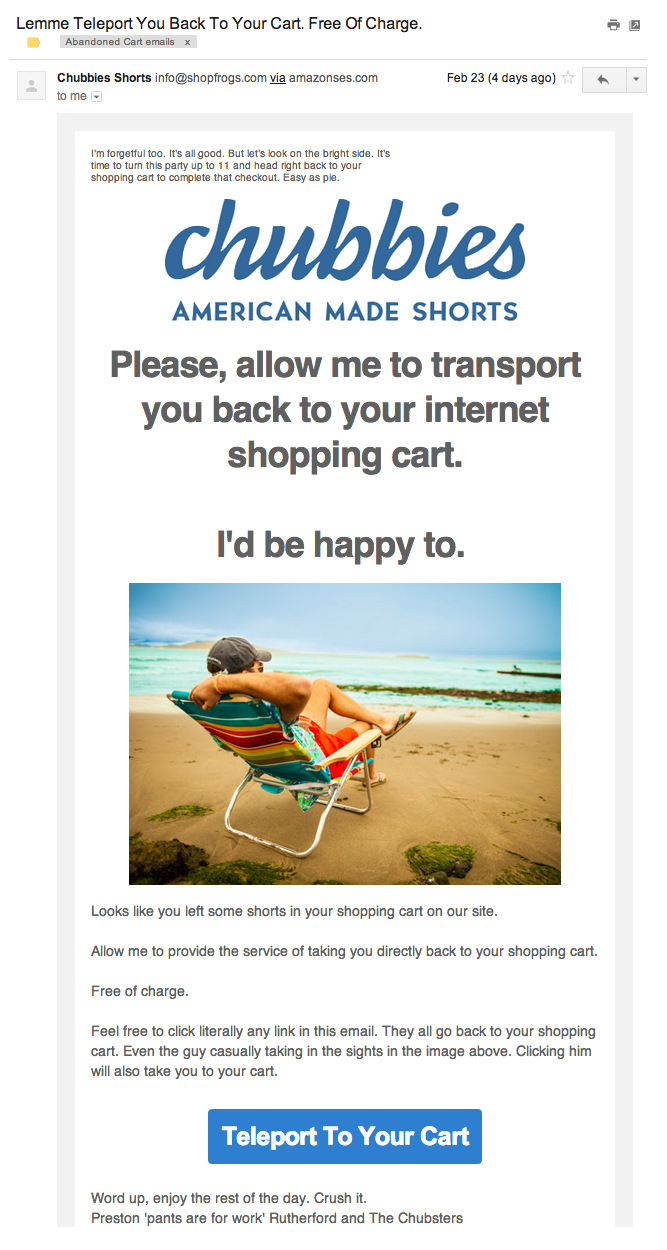 Chubbies Shorts
Abandoned cart emails are easy to create, and go a great length to pull back reluctant customers.
Saving their cart, or displaying the items that they've planned to purchase, and sending the preserved cart to them with a link is the easiest way to get those customers back.
Great copy
Pay close attention to the way Chubbies Shorts wrote this email. "Allow me to teleport you," "Let's turn this party up to 11," and "Word up" all go along with the image of the store run by fun-loving people.
Also, note that clicking any of the three links in the email takes you back to your cart. (There are active links in the title, on the main picture, and also on the big button at the bottom of the email.)
It's in the details
The example from Chubbies Shorts serves as a good transition point into the next feature of standout abandoned cart emails: great copy.
Think of abandoned cart emails as a bonus marketing opportunity. You take care to make all your marketing materials compelling, and you shouldn't slack off here. In addition, because of the purpose an abandoned cart email serves, it may be a much more welcome email than what you'd normally send.
What are the ingredients for a good marketing email? It includes:
An attention-grabbing subject line
Great copy
Good images
_____________________________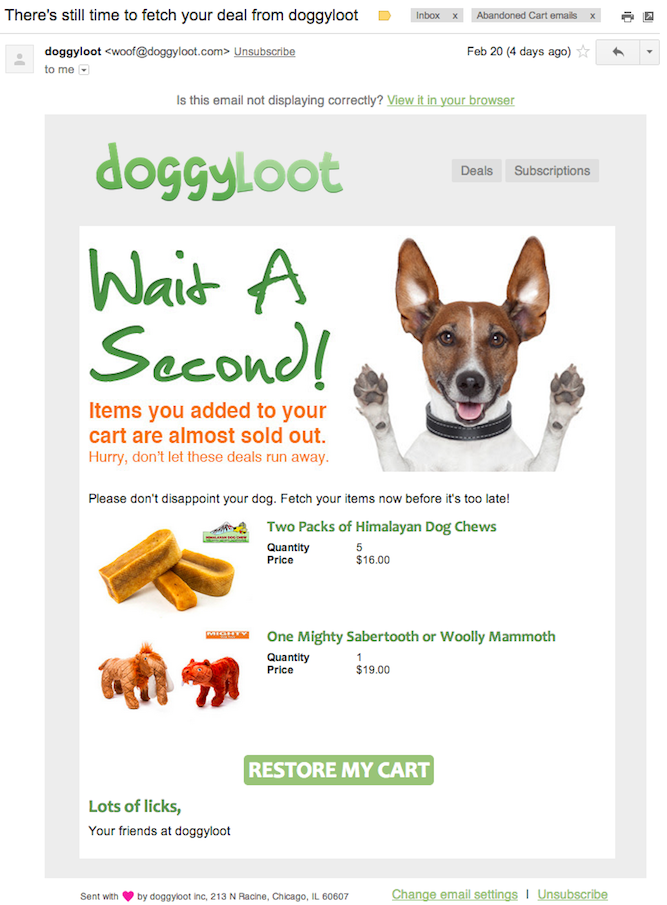 e-Mail Recap from DoggyLoot
An email with great copy comes from Doggyloot.
In addition to showing what has been selected and giving  a link to the abandoned cart, it really lays it on thick with the dog imagery.
See: "Don't let your items run away!," "Fetch your items now," and a sign-off of "Lots of licks."
Who doesn't love dogs? Cat lovers actually, but that is besides the point.
If your store persona is highly marketable, incorporate it into your copy.
Even a store that has very little to do with dogs can feature a cute puppy in its email.
_____________________________
Next, the Great Offer
Every abandoned cart email needs compelling copy and an easy way to get back to the cart, or at least display the items that were abandoned. The following features aren't exactly essential, but they're great if you can manage them.
Offer a Discount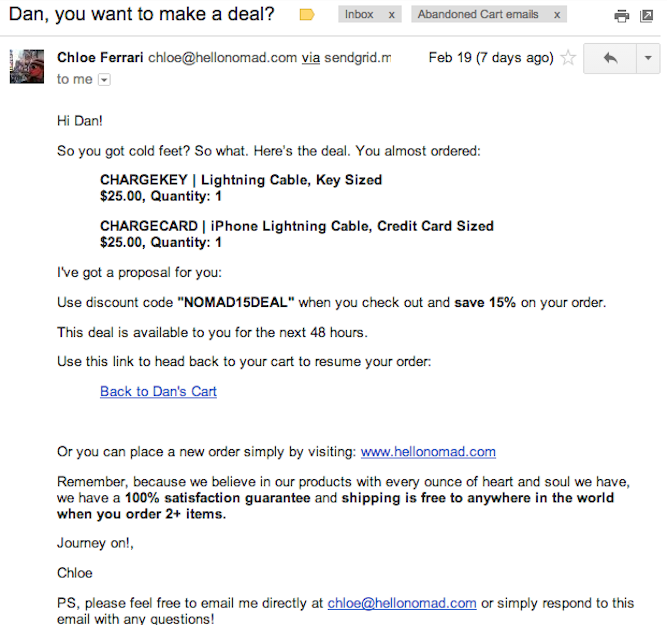 Most customers abandon their carts because the final price is more than what they expected.
When people think about how much they're going to pay, they're usually adding up the prices of each item they add to the cart. They don't always think about taxes or shipping, and if they do, they often lowball the estimates.
Top Reasons – That's why three of the top four reasons that people abandon their carts have to do with prices.
And there's a simple way to recover the customers who have been scared away by the final price: issue a discount. Discounts are easy to create. Simply decide on the amount, generate a discount code, and leave it in the abandoned cart email.
Does it Fit your Strategy – Now, you've got to decide carefully whether discounts make sense for your business. You know that a lot of customers are abandoning their carts, but no two stores face the exact same mix of reasons. You have a good chance of encouraging your customers to make their purchases after a discount, but you also don't want to lose too much in sales.
NOMAD's email subject is a question: "Dan, you want to make a deal?" And the deal is a good one: 15% off the cart, with a link to take me back.
Plus, it's personalized. There's a real person, not a generalized inbox, that's offering to make a "deal" with you.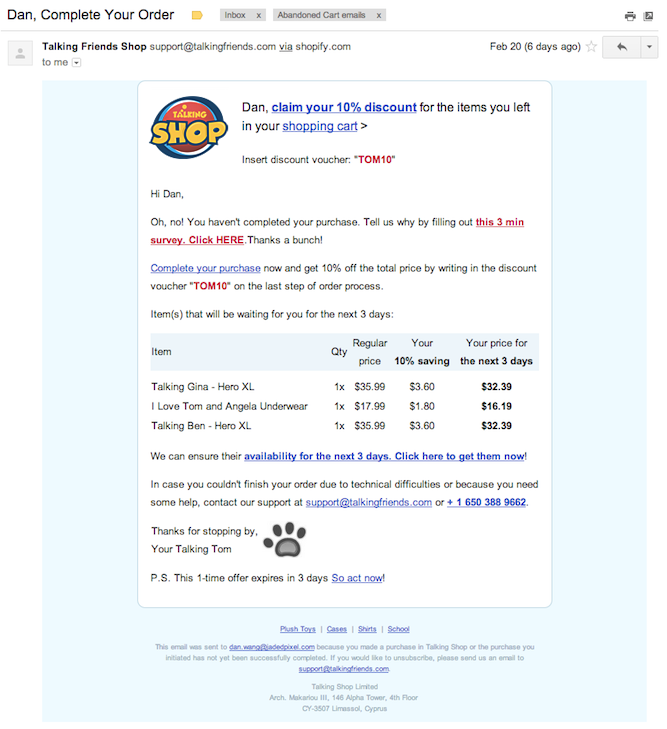 _____________________________
ALL in One Offer
Graphics – If you know a little HTML or can make some tweaks on existing graphics, it's a good idea to make some enticing visuals. Think of abandoned cart emails as yet another platform for marketing. If all of your regular emails areslick, this one should be too.
Reserve the items in the cart
Consider using the possibility of your item selling out to encourage a purchase.
There's also another way to take advantage of that scarcity effect. You encouraged them to go through checkout and guarantee that you'll hold the item(s) for them for a definite but limited time.
Customers know that small stores frequently sell out of items. Knowing that the items will be held for them may push them to buy.
TEST TEST TEST… This email incorporates a lot of options. Although its design is more functional than flashy, it more than compensates in other ways. In order to find out what works for you and your customers, you will need to test.
THE LAST WORD ON THIS SUBJECT TODAY
One note on timing: We recommend that you don't wait more than 24 hours before you send them out. Some merchants choose to send an email instantly after a cart is abandoned. In any case, you don't want to wait to the point that someone has forgotten the items she wanted before you send her an email.